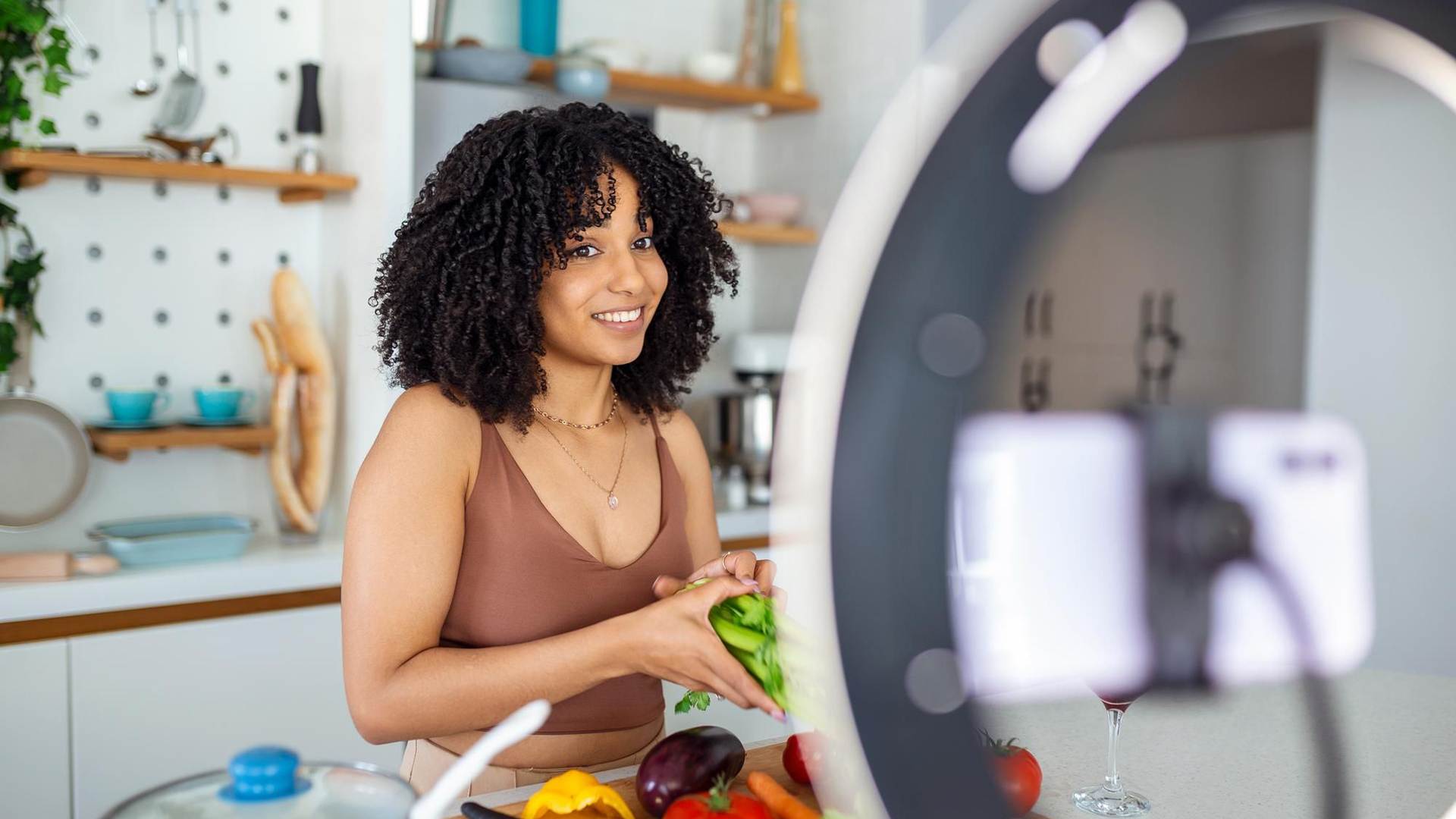 Found - How to decide which social media platform is best for you.
You've seen the potential success that you can have by creating content and building an audience – and how then engaging with Found can help you turn that content into cold, hard cash.
But if you're at the beginning of your journey and are just starting out, it can be challenging to decide what platforms you should engage with.
One of the goals that you need to set yourself is to grow your audience – and that should help inform all the decision you make.
More than half of consumers these days learn about new brands via social media, which has the power to create a direct line of communication between customers and that brand.
It's also an invaluable source of information – you can check out the kind of posts that do well and the way that other companies/influencers respond.
Looking at the success of other people who operate in the area you're interested in can really help you make informed decisions.
The good news is that you don't have to choose just one platform to operate on – in fact the more you use, the bigger your potential audience!
If you're not sure about the pros and cons, here's our no-nonsense guide to social media.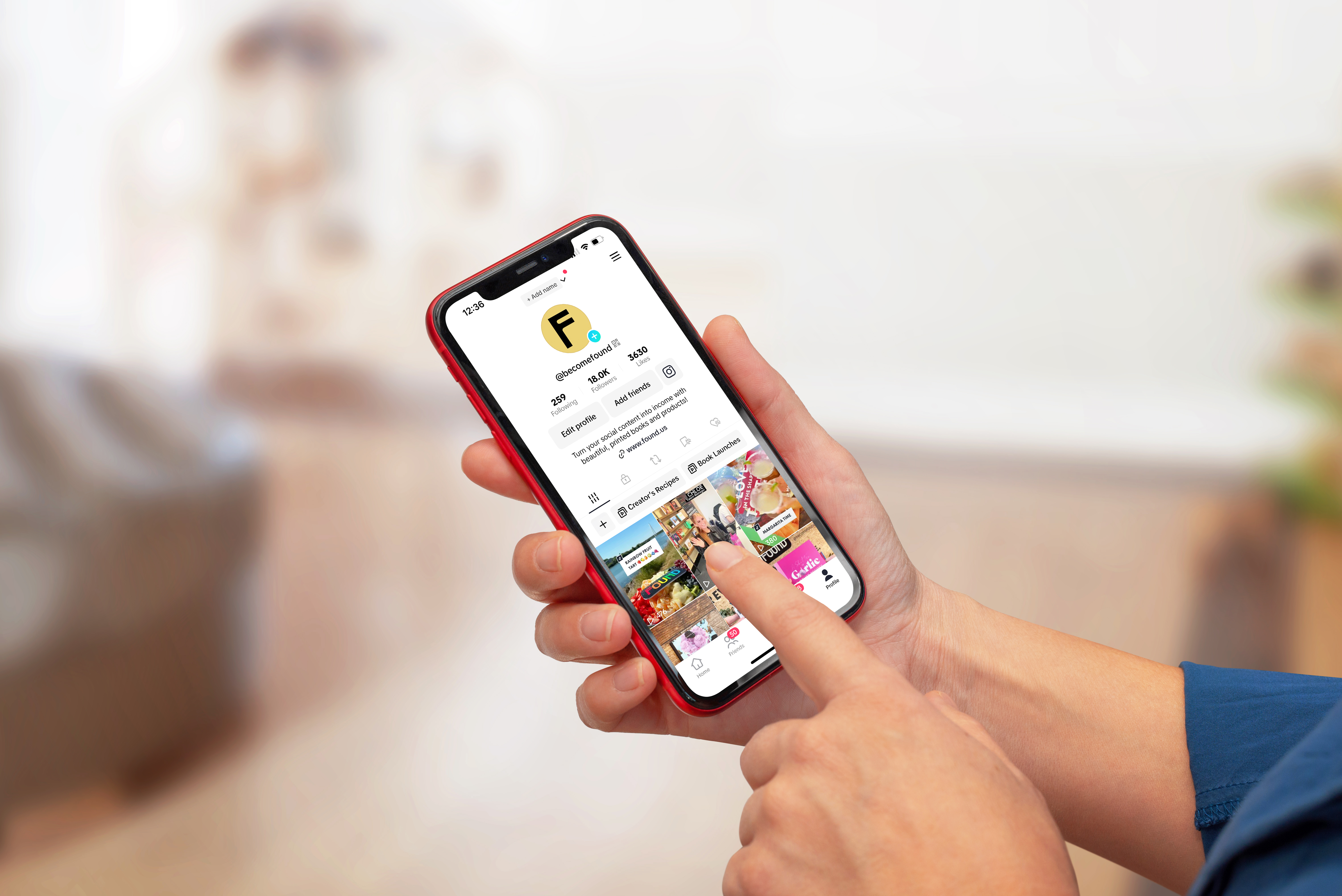 TikTok
Feel free to come and find us here www.tiktok.com/@becomefound
There's no doubt that TikTok is the platform "de jour" – the most downloaded app in 2020 and the popular website in 2021.
It uses short form videos, where those which are entertaining or funny definitely have the largest levels of engagement, but it covers every conceivable topic – from cooking to DIY.
It does cater for quite a young demographic – mostly teenagers through to 24-year-olds, although it's popularity among older age groups is definitely growing.
TikTok is a fantastic way for creators and their audience to interact and its unique algorithm help watchers find the videos for the subjects they interested in – which means that anyone wanting recipes or keen on cooking can be directed to possible areas of interest.
To be successful on TikTok – after all everyone's ambition is to go viral – there's a few tips that can help. Make sure you come over as your authentic self and highlight your uniqueness.
While there's no magic formula for TikTok success, operating in a particular area such as cooking videos are always up there with the most popular areas – so that's a very good start.
It's certainly not impossible – for example take a look at one of Found's success stories, Matthew Bounds. Matthew posts under his account @yourbarefootneighbour and suddenly found his twist on a traditional American cobbler not only got him 24 million views but led to an appearance on Good Morning America.
This is the power of TikTok, so it's worth putting in the time and effort to create an account.
If you're unsure about creating videos, there's some great tutorials and advice on the web which can help you and build your confidence.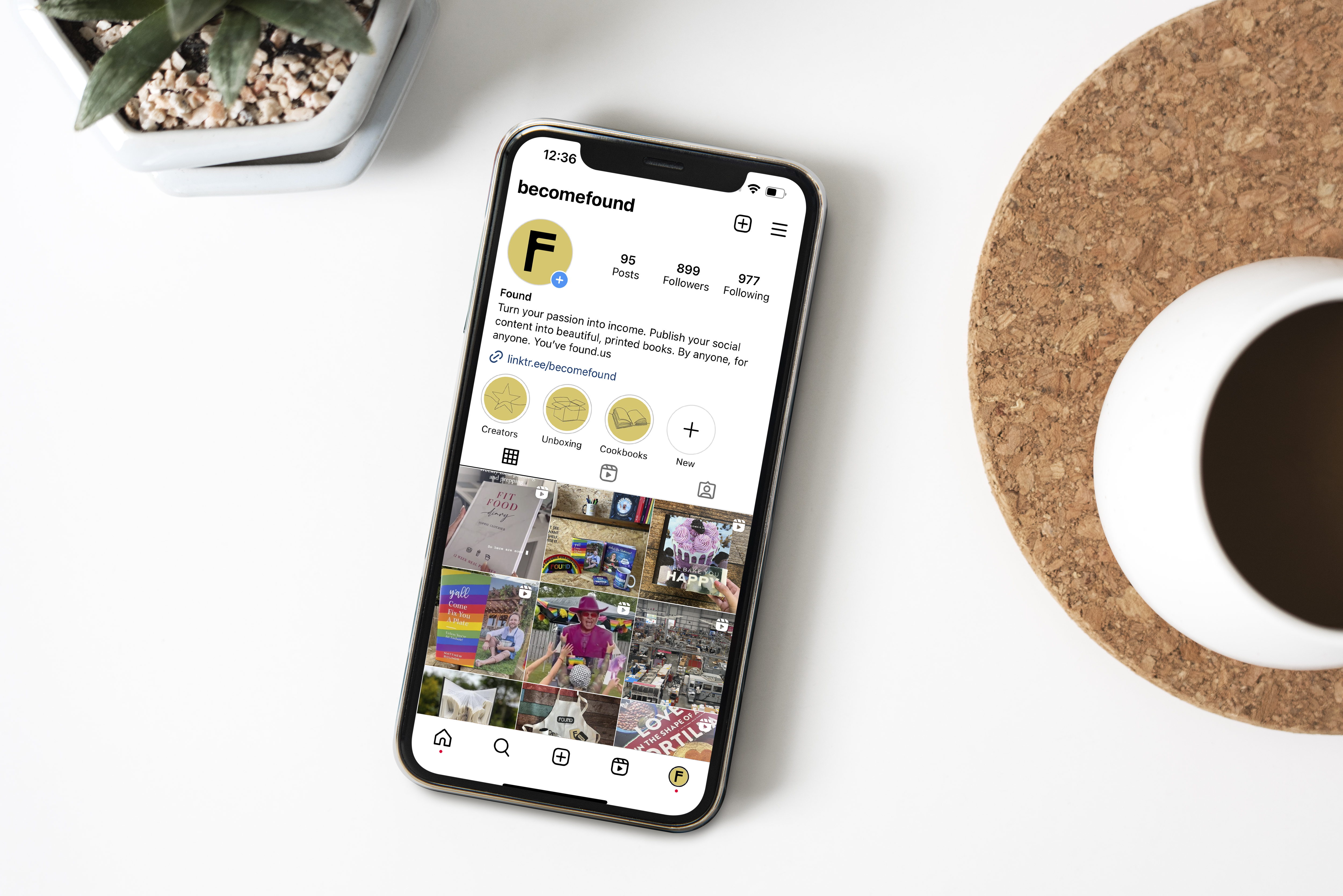 Instagram
Found account: www.instagram.com/becomefound/
If you've got TikTok, then you definitely need to sign up for the social media giant that is Instagram. With a mind boggling two billion users worldwide, you can use the platform to promote posts, offers, stories, reels, and live streams.
This is also a great way to push your brand and your merchandise, with a shopping feature where you can include links to your products.
Instagram has the advantage of being something that it's quick to post on and doesn't require quite as much effort as making a video for TikTok – although you can of course include that on Instagram too!
Instagram stories and Instagram live streams are a great way to introduce the personal sides of your business. You could feature new creators doing takeovers, offer Q&A's, host polls about what your audience wants to see.
The photo-first format places a visual focus, great for releasing new book covers or appealing food photos which tease new releases.
Instagram offers in-house advertising, where adverts can be directed at specific demographics to make sure your adverts are the most effective – a great way to promote your cookery books and merchandise!
Plus, their 'insights' suite for businesses also allows you to analyse which posts do best, which customers engage the most, what kind of customers you have and recognise trends in your content.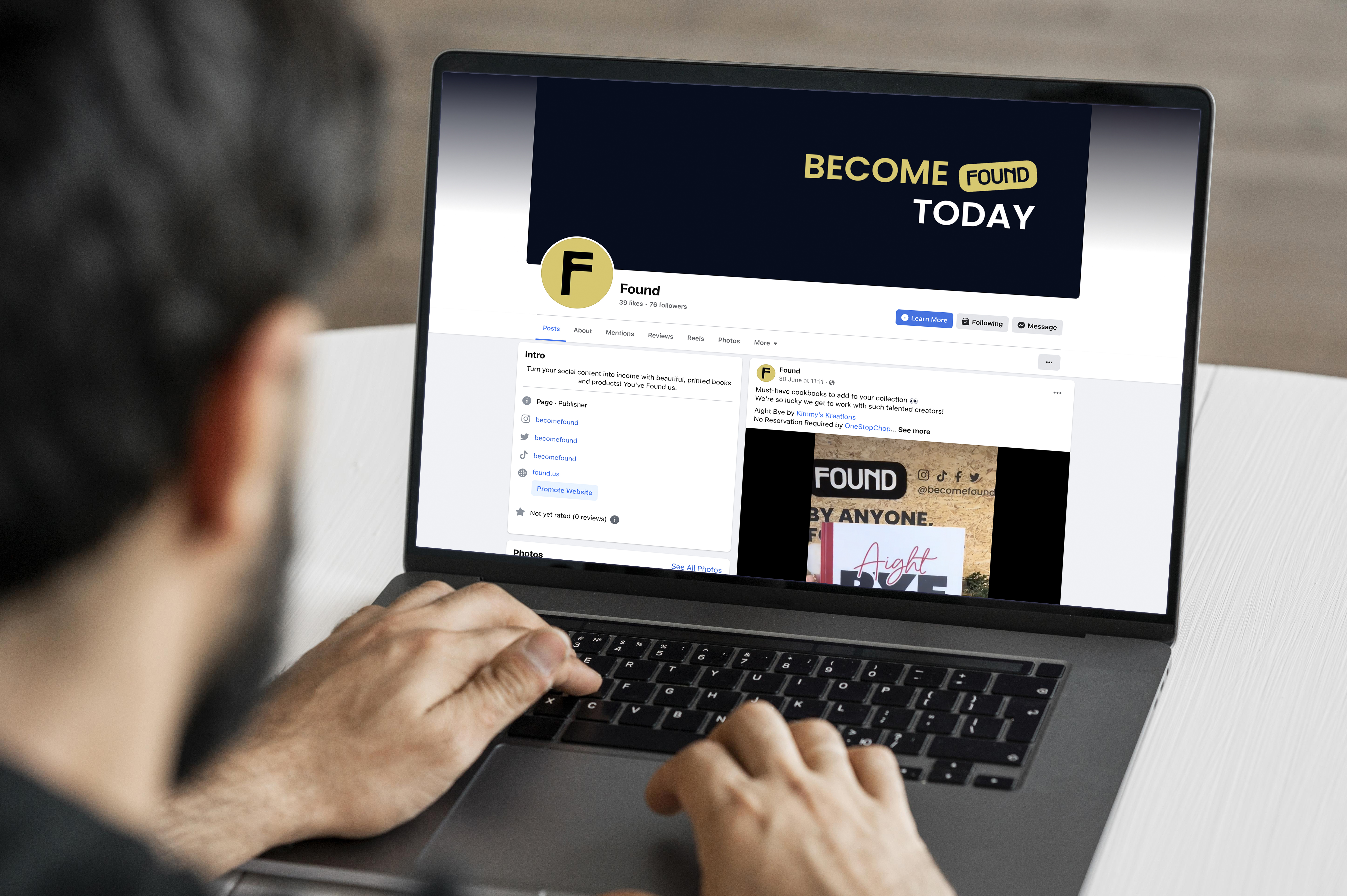 Facebook
Found Account: www.facebook.com/becomefound/ www.facebook.com/becomefound/
The grandaddy of them all, Facebook is probably the most recognised social media site and is the perfect choice if you want to engage with a slightly older demographic.
Facebook also has its own shopping service, and you can use its business suite in tandem with Instagram, so you can double up content and synchronise your posts. It also offers a scheduling tool for posts which takes the pressure off coordinating and uploading posts every day, especially on times like the weekend or holidays.
Facebook offers some functions such as events which can then be suggested to your audience. Could be good for virtual book launches, upcoming Q&A's or even in-person events that you might want audiences to attend.
It's also the platform with the broadest set of tools, where people can like your entire business and share it on their page. You can create communities, groups, and events and post job listings. It might not be as slick or as simple as newer platforms like Instagram or TikTok, but it is the most established and offers the most features – and with almost three billion users it definitely can't be ignored!
Twitter
Found Account: : twitter.com/becomefound
Twitter may not be as useful as some of the other platforms, but it still pays to have it in your arsenal.
It's great for teaser campaigns and because of its direct message facility, it's easy to engage with potential customers. With 238m daily users, of which more than 50% check their feed every day, this is a great way to engage and promote your brand.
It's a brilliant platform to showcase your book, your recipes and your merchandise and definitely needs to be part of your marketing plans.
If you're short of time and images then that's not a problem, use Twitter to answer questions or share news.
And you can also use features such as polls to directly engage with potential audiences.
And finally….
There's no denying that posting on all of the social media platforms can be a massive commitment, but the potential rewards are there for all to see!
If you don't have the time to constantly be posting to every platform, then look at the one that you feel will best represent you and make that the focus of your efforts.
There are certain apps that you can programme to share your content on a number of platforms at any one time so that might also be worth some investigating.
Do your homework and then you can look forward to rich pickings!
Related topics